NCD- Non Communicable Diseases Control Programme
Non communicable life style diseases pose a huge threat to the nation's public health system both in terms of morbidity, mortality and economic burden it imposes. In order to address one of the greatest public health challenges, the state NRHM has designed a non communicable diseases prevention and control programme in the state – which is the first of its kind in the country- and successfully pilot tested in a taluk of Trivandrum district and whole of Wayanad district. The essential component of this programme is ASHA service and from there on the NRHM machinery working together with state health service system at various levels.
This programme has been pilot tested in 2008-09 in a Neyyattinkara Taluk in Trivandrum district and in Wayanad district and was proved successful in improving the efficiency, accessibility and equity in non communicable diseases care in the pilot Taluk and Wayanadu district.
During 2010-2011 year we have planned to expand the project to the whole of Trivandrum district.The NCD programme has been operational in Wayanad district in 2008-09 and we would like to continue the programme in the coming year as well.
The state of Kerala is unambiguously placed at the highest epidemiologic transitions zone which had exerted drastic effects on the morbidity and mortality tables of the state. The rampant urbanization and modernization which had infiltrated even to the grass root levels of the state, irrespective of the region and economic strata, influenced lifestyle of the population making the state fertile for Non Communicable diseases to flourish. The mortality and morbidity due to lifestyle diseases soon began to surpass those due to communicable diseases & RCH issues combined.
The available studies on prevalence of these diseases indicate high trends of NCD placing the state in the top spot of prevalence chart. The study conducted by Achuthamenon Centre for Health Science Studies in 2017 was a shocking revelation into precarious the position of the state with findings pointing that one in five of the population being diabetic and one in three being hypertensive. This along with the poor control rates and high out of pocket expenditure for the management of this diseases made Kerala the hub of Non Communicable Diseases in the country.
Even though the state has witnessed a steep decrease in the use of tobacco in the GATS 2016 study with the prevalence dipping to 12% from 21%, the increasing affinity to alcohol is affecting the health sector with studies showing the prevalence rate as high as 44% and age of initiation coming down every year.
The unhealthy dietary practices and lack of physical exercise in all sections of the population irrespective of the age and economic status has contributed to the rise in lifestyle diseases with the statistics pointing that 52% of the total death in the age productive age group between 30 and 70 being due to one or other cause of NCD.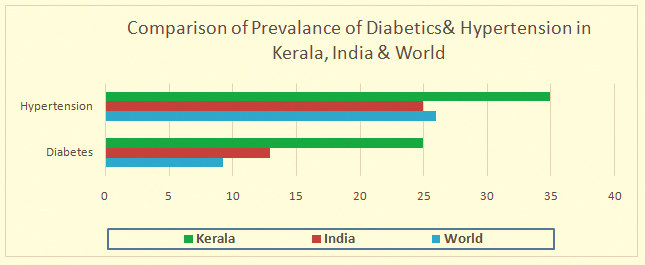 Evolution of NCD Control program
The strategic thinking on controlling the epidemic of Non Communicable Diseases started in the first decade of this century with a handful of localized projects and government sponsored pilots in selected districts of the state. But it was after the introduction of the centrally sponsored National Programme for Prevention and Control of Cancer, Diabetes, Cardiovascular Diseases and Stroke (NPCDCS) programme in 5 districts, that a structured programme for control of NCDs was developed in the state. The political leadership had shown a responsible stand in favour of NCD control activities on a broad frame work which resulted in the evolution of a state run Non Communicable Diseases Control programme- Amrutham Arogyam
Amrutham Arogyam-
Objectives of the program lie in 4 levels
Primordial level: Reduction of risk factors in the population
Primary level : Health education for the population on healthy diet, Exercise and ill effects of addiction
Secondary level- Screening for the population above 30 years of age for Non Communicable Diseases irrespective of their disease conditions and free supply of medicines for all detected with NCDs
Tertiary level- Early management and treatment of complications
Coverage
Amrutham Arogyam programme covers the entire state spreading across all districts and the services rendered through all district/General hospitals, Sub district level hospitals, Community Health Centers, Primary Health Centers and even the 5400 Sub centers which cater to a population of five thousand. Kerala is the only state where the entire health system is equipped with NCD screening program
Screening
The population above 30 years was subjected to screening at the Amrutham Arogyam clinics for NCDs. So far one crore 34 Lakhs ( 1.34 Crore ) people were subjected to screening out of which 9.01 Lakhs new diabetes cases,  10.06 Lakhs new hypertension patients and 3.09 Lakhs patients with both the diseases were detected. Nearly 27 Lakhs Diabetes patients and 31 Lakhs hypertension patients have been registered and availing the benefits in the programme.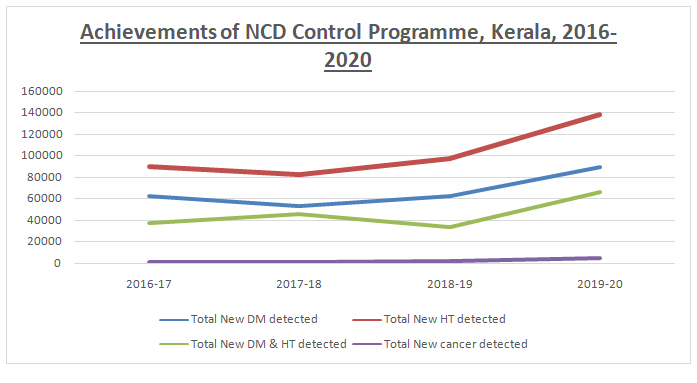 | | | | | |
| --- | --- | --- | --- | --- |
| Indicators | 2016-17 | 2017-18 | 2018-19 | 2019-20 |
| Total New DM detected | 62634 | 53379 | 63130 | 89727 |
| Total New HT detected | 90682 | 82921 | 97456 | 138507 |
| Total New DM & HT detected | 37121 | 45602 | 33576 | 66689 |
| Total New cancer detected | 1424 | 971 | 1862 | 5159 |
Medicines and logistics
All NCD clinics including subcentre clinic were provided glucometers, BP apparatus and weighing machines for screening.  Special equipment like Spirometers, Non Mydriatric Cameras, Fat impedance machines, Biothesiometers, Hand held dopplers, Trop T analysers were provided to the NCD clinics based on their service provisions.
A treatment protocol was prepared for the management of Diabetes and Hypertension by the National and State level experts, which was published as a Government Order. All medicines including insulin prescribed in the protocol was procured and distributed up to primary health centers and distributed to the population free of cost.
Special Programmes under Amrutham Arogyam
The Kerala COPD Prevention and Control Program- "SWAAS"
                      (STEP WISE APPROACH to AIRWAY DISEASES)
COPD is one of the leading causes of mortality and morbidity worldwide. As per the Global Burden of Diseases estimates for India, COPD is the second leading cause of mortality in India. Kerala has taken the bold step of formulating COPD prevention and control program in the country for the first time and the official declaration of the program was done by the honorable minister for health and family welfare on February 7th 2017.
The objectives of the Kerala COPD prevention and control program
Identification of COPD in the early stages of the diseases
Develop a structured program for COPD diagnosis and treatment, starting from the primary care level up to the tertiary care level, including the Medical Colleges
Develop a system for generating information on disease burden of COPD, health seeking behavior and health system needs which will aid in further planning and strategizing for COPD management in Kerala.
In the first phase, the programme has been implemented in 178 primary health centers covering population of 4,000,000 and 39 secondary and tertiary care hospital.  About four hundred doctors, 400 staff nurses and multipurpose workers were trained on diagnosis and treatment of COPD. Trainings & capacity building focused on Tobacco cessation, prevention of indoor and outdoor air pollution, use of clean fuel, occupational health, performing spirometry inhaler technique, pulmonary rehabilitation and medication compliance. Diagnosed patients were registered and followed up at regular intervals.
Services
The programme aims at diagnosing COPD at FHC level by doing pulmonary function test (PFT) using Spirometers supplied to all Family Health Centres.  The staff nurses and Medical Officers were trained in doing Spirometer based diagnosis and treatment was initiated only after making proper diagnosis. Expensive medicines like Aerosols, supporting equipment like Oxygen Concentrator, Pulse Oxymeter and metered dose devices were procured and supplied to all FHCs. The district and Sub district level SWAAS clinics provided Spirometry and specialized management services like non invasive ventilators and other equipment as per the SWAAS guidelines.
Chest Disease Hospital, Pulayanarkottah, Thiruvananthapuram was   designated and upgraded as State COPD Centre where a comprehensive service package for COPD is delivered. These include curative services, ICU Care, Rehabilitative services and smoking cessation .This unit is functioning as the state monitoring cell of COPD Programme
Achievements
SWAAS Clinics are functional in 14  District Hospitals
SWAAS Clinics are functional in 178 FHCs
| | | | |
| --- | --- | --- | --- |
| | 2018-19 | 2019-20 | Total |
| Symptomatic Screening | 47601 | 63206 | 110807 |
| Swaas clinic-FHC | 89 | 90 | 179 |
| Swaas clinic- DH/GH/THQH | 14 | 25 | 39 |
| Spirometry  Screening | 9147 | 18428 | 27575 |
| COPD Diagnosed | 4677 | 11557 | 16234 |
| Asthma Diagnosed | 4145 | 7081 | 11226 |
| | |
| --- | --- |
| Number  of patients undergone symptomatic screening (Attended SWAAS clinic) | 110807 |
| Number of patients screened with Spirometry | 27575 |
| Number of COPD diagnosed | 16234 |
| Number of Asthma diagnosed | 11226 |
| Number of patients  received smoking cessation services | 13752 |
| Number of patients who Quit smoking | 2503 |
| Number of patients received pulmonary  rehabilitation services  | 12298 |
| Number of alternate diagnosis made  (TB/Cancer ,ILD , Bronchiectasis, Cardiac Diseases etc) | 740 |
2.INDIA HYPERTENSION CONTROL INITIATIVE(IHCI)
The India Hypertension Control  Initiative (IHCI) is a collaborative project of Indian Council of Medical Research (ICMR), Ministry of Health and Family Welfare (MoHFW), Government of Kerala, World Health Organization (WHO), and Resolve to Save Lives initiative of Vital Strategies.
Kerala State also incorporated Diabetes control and monitoring along with IHCI. The Initiative is implemented in four districts of Kerala-Thiruvananthapuram, Thrissur, Kannur and Wayanad
Strategies of the Initiative:
The IHCI is focused on five essential components of scalable treatment of hypertension, based on WHO HEARTS Package. It will support the adoption of standardized simplified treatment plans for managing high blood pressure, ensure the regular and uninterrupted supply of quality-assured medications, task sharing so health workers who are accessible to patients can distribute medications already prescribed by the medical officer, and patient-centred services that reduce the barriers to treatment adherence. Data on hypertension will be improved through streamlined monitoring systems, and the lessons learned, and practice-based evidence will inform further interventions to improve cardiovascular care.
Services under the Initiative:
All patients 18 years and above visiting any PHC or CHC is subjected to BP measurement
Patients whose BP values are more than or equal to 140/90 are referred to Medical officer for treatment initiation, in which lifestyle modification is the first modality of treatment followed by pharmacological management as per the decided treatment protocol.
Patients initiated on treatment are registered under the program with a Treatment card maintained for every patient at the facility level and a patient pass book at the patient level.
Details of Patients registered with treatment card are documented in a Hypertension facility register to facilitate cohort monitoring after 6 months of treatment initiation.
Cohort monitoring of patients registered under the Initiative after 2 quarters of registration and treatment initiation.
Identification of defaulters and ensuring tracking of defaulters through field workers.
Achievement
Control rates among Hypertension patients on treatment has increased from 13% to 38.1% and for the first time defaulters were tracked and was able to decrease the defaulter rate to 27.6% from 55%.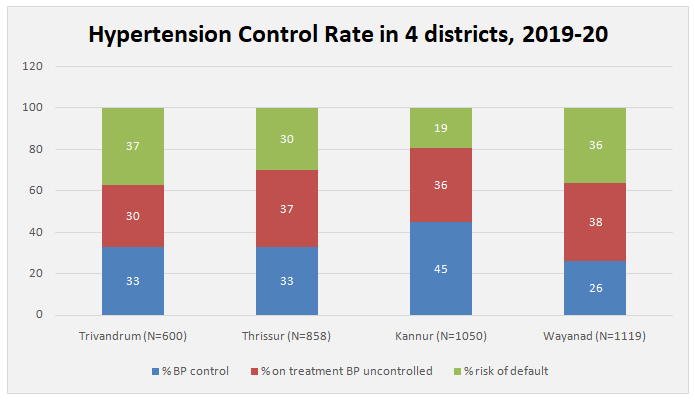 NAYANAMRITHAM- Diabetic Retinopathy Screening
Diabetic Retinopathy is a common complication of longstanding Diabetes Mellitus which can end up in total loss of vision. The progress of Diabetic Retinopathy is in different stages and complete effective treatment is available if the condition is detected in the early stages. With the technical support provided by E-health, Health Services department had implemented a care pathway in the public health system involving the primary centres, secondary centres and tertiary care centres in Thiruvananthapuram district of Kerala.
The DR screening was done using a hand held Non mydriatic Camera which can take fundus photograph for the diagnosis of diabetic retinopathy and it stages. Training was imparted to staff Nurses, who would take fundus photograph of Diabetic & hypertensive patients visiting the NCD clinics.  The captured image will be transmitted to a state retinopathy centre located in the Regional Institute of Ophthalmology and manned by trained Optometrists who would evaluate the picture and send back the diagnosis and advice on management.  Asha workers and other field workers play an active role in identifying the diabetic patients in the community and encouraging them to take part in the screening programme.
Scale- up of  the programme to other districts:
In the process of expanding the screening programme throughout the state, 52 Non mydriatic cameras were procured through NHM in 18-19 and approval was received for procuring 100 more cameras in ROP 19-20.
State is planning to include retinopathy screening in all the family health centres.
Achievements
Diabetic Retinopathy clinics are functional at 14 District Hospitals and 16  Family Health Centres  are currently functioning as  DR screening sites using  Non Mydriatic  cameras
Total patients screened (July 2018 to February 2020)- 7446and of those patients, 2063 patients were referred for further treatment and evaluation
819 cases were detected with Diabetic Retinopathy and 646 cases diagnosed with other retinal changes. Cataract cases can also be identified through the screening.
As part of the programme, laser machines were provided to 3 General Hospital/Taluk Hospitals to ensure the treatment of the retinopathy cases.
90 laser treatments had been performed at the hospitals for those in need.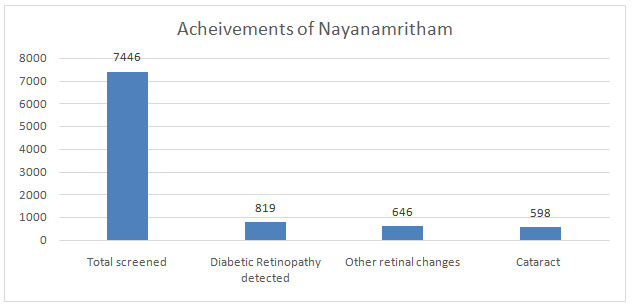 Population Based Screening
In the State of Kerala even though there is clinic based data on the prevalence of Non Communicable Diseases, there is no population based registry of these diseases. The state has initiated population based screening of Non communicable diseases at four districts with the support of ASHA volunteers who would visit the houses in their jurisdiction and collect information on the status of Non Communicable Diseases and its risk factors. Based on this data camp based and home based screening will be conducted for those who are unaware of their NCD status  and the total data will be consolidated health centre level, district level and state level. This programme is now expanded to all districts under NHM.
CAPD Clinics( Continuous Ambulatory Peritoneal Dialysis)
Haemodialysis centres are mushrooming in the state of Kerala due to the increase in patients with renal complications, which have affected quality of life adversely along with the economic burden it has inflicted.  To alleviate this situation the state health department has initiated a programme to promote CAPD which is cost effective and convenient to the people as they can continue dialysis without affecting their daily life chores. CAPD centres were set up at 3 district hospitals and are planning to expand the programme in all districts based on the evaluation of existing centres.
Diabetic Foot Clinics( Padasparsham)
Diabetic foot is a major complication of long standing diabetes and may result in loss of limbs if not detected at an early stage. The state health department have procured Biothesiometer, Handheld dopplers and Monofilament for detection of early diabetic foot and the Medical Officers were given training on Diabetic foot Management by  Indian Institute of Diabetes.  Diabetic foot clinics were established in selected district and sub district level hospitals and steps are being taken for expansion of the programme to all hospitals.
7. Cancer Management
Kerala has the highest incidence and prevalence of Cancers and the State average is much above the National average. The   cancer treatment facilities in Government sector is insufficient to cater the burden of increasing cancer rates as statistics quote that nearly 55000 people are registered as new cancer cases every year. This had affected the cancer patients   residing in districts where cancer treatment facilities were unavailable in Government Sector.  To alleviate the miseries of cancer patients residing in these districts and also to decrease the over burdening of Regional Cancer Centres, an innovative model of decentralized cancer care services was initiated in the state. The Assistant Surgeons were trained in Comprehensive Cancer Management and posted at District level Hospitals were cancer treatment facilities including day care chemotherapy were set up using State Plan fund and NHM fund. At present 24 hospitals across Kerala have the District Cancer care facility and over 72000 chemotherapies have already been done through these centres, in addition to over 3000 new detection of cases. More over Palliative Chemotherapy wards were set up in all District Hospitals for treating the terminally the cancer patients
Achievements
24 District cancer care units functional in state
72000 chemotherapy done
3000 new cases detected
14 district palliative chemotherapy wards
Stroke Management (SIRAS- Stroke Identification Rehabilitation Awareness and
    Stabilisation  Programme)
Stroke is a complication of Hypertension, which is occurring due to an occlusion of blood vessels due to clot or due to a hemorrhage of cerebral vessels. Stroke Management is time bound and the recovery depends on time frame within the patient reaches the treatment centres which is usually 4 hours. Stroke Management is complicated as the management requires specialized skill, infrastructure and expensive medicines for stroke thrombolysis . Health department started stroke management programme SIRAS by training the Physicians in stroke management at SCTIMST and setting up stroke ICUs in the district hospitals which have CT scan and Tele Radiology services.  Tissue Plasminogen Activator (TPA) – the medicine which cost over Rs.50000/-   was procured using NCD funds. Nine  District Hospitals have started functioning stroke clinics and the rest of the districts are completing stroke ICUs.
Achievement
Stroke clinics are functional in 9 District Hospitals
126 Thrombolysis were done in these stroke clinics
3600 Metabolic Centre of Excellence
As a part of the mission to control the life style diseases,  an exemplary center named 360 degree metabolic center of excellence started functioning at Ernakulam General Hospital, by the Government of Kerala with external support.
Patient gets a unique ID once they register at the center. They can then move towards the Pre Clinical area where Basic information such as Patient's height, weight, Blood Pressure, etc are monitored and recorded. With the help of advanced point of care (POC) devices,  patient gets the test results within short duration from the lab. After analysing the lab reports, if required, doctor guide the patient for further tests and steps such as nutritional counselling, Physiotherapy, Pulmonary function test, Retinal Scanning, Diabetic foot assessment, etc which are available under one roof.
Treatment Summary (including test results, diagnosis etc) are getting collected using data base management systems and the data is saved for the future reference.
Patient gets the complete treatment summary while they leave the center. Using tele calling facility patient gets a reminder call before few days of the scheduled follow up date.